Booking online by Hotel.BB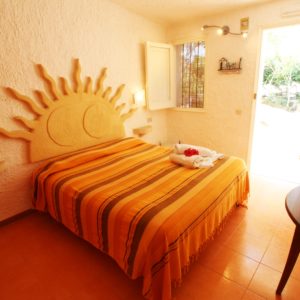 Classic Double: Modern style and practicality
Double and twin rooms, recently renovated with simple Mediterranean style furnishings, are available in 4 colours: Violet, Orange, Sun Yellow, Mediterranean Blue.
All equipped with all the main comforts: TV, air conditioning, hair dryer, private bathroom, linen / towels and all the necessary for your personal needs.
Room surface range about 14/17 m²
Free Wi-Fi connection.
They are the ideal choice for couples with a small child. Here you can add a free baby cot/crib. This option is available only on request and only in some rooms.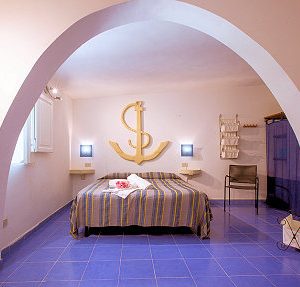 Family Classic: Our family rooms
Family Classic: Our family rooms
Family room, designed for families wishing to spend a relaxing beach holiday, these rooms are about 24 square meters.
The rooms have of a double bed and a double sofa bed, in one room and a private bathroom with shower.
Ideal for 3/4 people.
Each room has a convenient location and direct access to the common garden equipped with deck chairs and fine garden furniture ...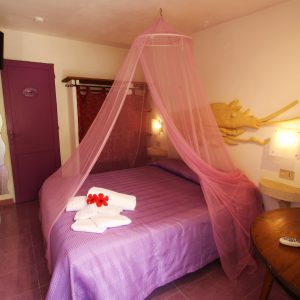 Double / Single: Small but with character
These 9 sqm rooms are an intimate refuge in the heart of the Oasi Village Hotel Favignana .
The wide open spaces, in the common garden, offer the opportunity to relax in the areas equipped with deck chairs, hammocks and chaise lounges.
All equipped with the main comforts: TV, air conditioning, hair-dryer, private bathroom, bath/room linen and necessary for your daily needs.
Free Wi-Fi connection.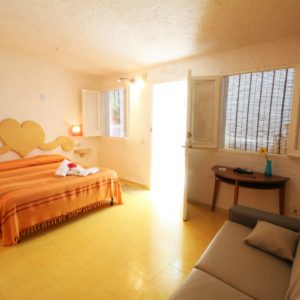 Junior Suite: Your colorful romantic getaway
A small corner of paradise of 22 square meters available for a comfortable stay in the typical Mediterranean style, with sleeping area and living room with sofa bed, characterized by simple furnishings with warm tones.
Outside the large garden will give you moments of true relaxation.
All suites have free Wi-Fi service.
... A welcome drink along with fresh fruit will be served in the room ....